From 2350m to 2550m
2x Skilifts
1x Blue slope
Ski Pass 120,000 Rials
Open on Week-end and Holidays from December to April
Ski Resort
At the heart of Zagros mountain range, 200km away from Isfahan, the village of Chelgerd, home of the Bakhtiari tribe, has a lot to show:
Kuhrang tunnel : Kuhrang river redirection provides Isfahan and Yazd with spring water
Sar Aqa Seyyed : A small village with specific architecture – See some photos
Landscapes : During spring, mountains are covered with flashy colors
Chma ice cave : An impressive ice cave in the mountain – See forum post
Cuisine et produits locaux : Kebab, local honey, aromatic plants…
Chelgerd ski resort is a popular destination for skiers and tourists from Isfahan and Shar-e Kord. They come during week-ends and holidays to visit the Kuhrang tunnel, walk around, do tubing and practice or learn how to ski!
The ski area is tiny with only 1x blue slope served by 2x ski lifts. At the snow front, small slopes give an easy access to beginners. An old snow groomer is driven by the manager who does its best for grooming the slope. The main building located at the snow front hosts a gym with: Wrestling mat, fitness machines, a ping pong table, showers and toilets.
For ski touring, this area of Zagros mountains is a gold mine – Check this page. You can find tens of summits higher than 4000m, with easy access and virgin slopes. For french readers, take a look at this report made by "Montagne de Corse" in February 2017 : The tale / Photos.
★ Services : Skis rental (3 $ / hour) – Restaurants – Hotels – Shops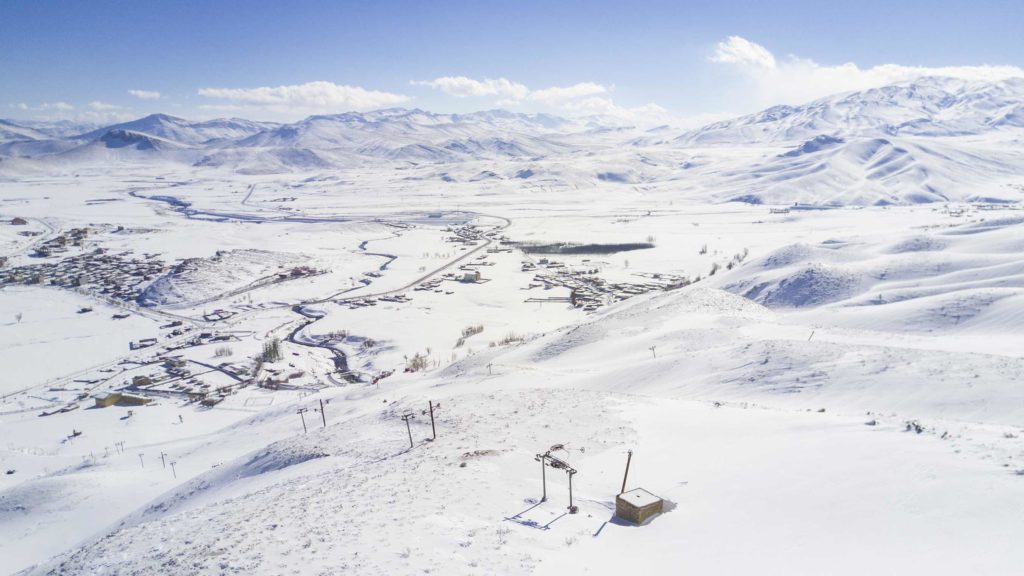 Access
Lost in the mountains, it can be tricky to access Chelgerd during snow falls. The road is however well maintained and the snow is quickly cleared to allow people from Chelgerd to reach Shahr-e Kord.
It is relatively easy and cheap to go there with public transportation and / or taxis.
GPS coordinates : 32.457838, 50.125393
Google Maps : https://goo.gl/maps/SNs8um16Xkq
Lodging
You will find 3 hotels in Chelgerd. Winter time is considered as low season there, you might be able to get cheaper price.
Wether you have your own sleeping bags, you can ask the gym's manager for sleeping there.
Photo gallery
Feel free to share your photos with us!