So, you'd like to find out about skiing in Iran? You've come to the right page! Photos © Sébastien Baritussio
Where to go skiing ?
Skiing first started in the 1930's in Iran and is now commonplace. There are around 19 ski resorts are across the country, and the potential for ski touring is virtually limitless!
Ski resorts in Iran
Let's start with the superlatives:
These three resorts are located in the same area, and only 70km North of Tehran. You will find great snow conditions, long slopes and nice freeriding / ski touring trails. Dizin even offers heli-skiing for you off-piste pros.
Most of the lifts are a bit old and the slopes are not always perfectly groomed, but do not worry, the warm Iranian hospitality and unique experience of skiing in the middle east more than compensates.
Take half a day to visit Tochal, the highest resort in Iran. The resort is small but the view of Tehran from the top is breath-taking. From the summit, you'll find long and nice off-piste trails with a northern exposure, which descend into a valley 20km from Shemshak.
There are other ski resorts, but most will not satisfy experienced skiers looking for challenging terrain. However, these – generally smaller resorts – offer the opportunity to go off the beaten track and spend time with local skiers. They are also the best resorts to establish a base camp for a ski touring trip.
Ski touring
During winter, about one third of Iran is skiable!!
From North to South, East to the West, Iran is covered with huge mountains. The two main ranges are Alborz and Zagros. If you want to know more about Iran's topography: Take a look at this map
The Zagros mountain range is a well-known destination for ski touring. Guides and tour operators organize ski tours each year in this area. Chelgerd and Fereydunshahr ski resorts are 3 hours away from Isfahan, which makes for a perfect base camp.
In Sahand and in the Alborz mountain ranges there are also lots of exciting opportunities. Mount Damavand – 5,609m – is as a magnet for most skiers. Its ascent in winter is tough due to unstable conditions, high velocity winds and low temperatures.
→ More info about ski touring in Iran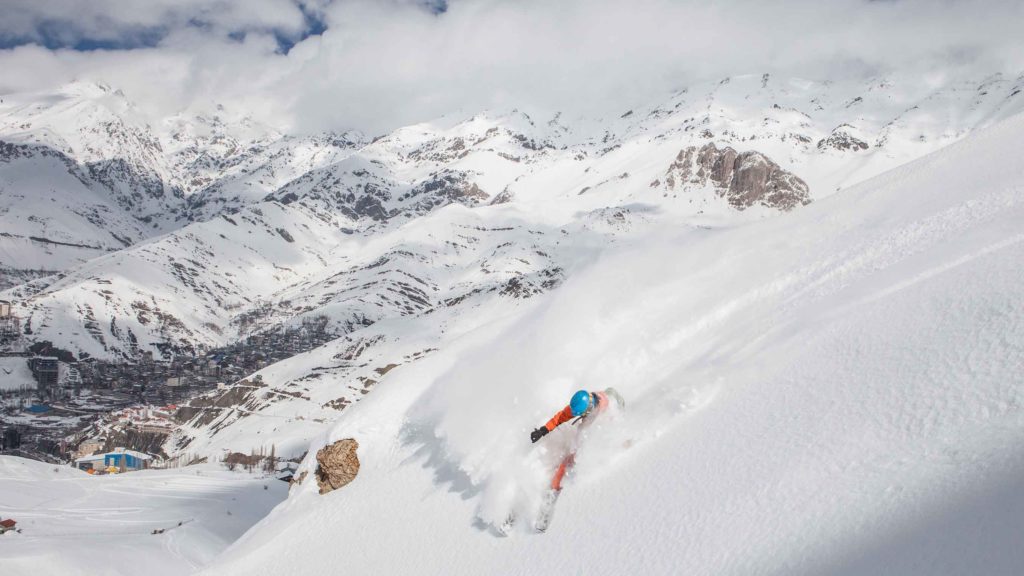 When to go skiing?
Just like in Europe, the best period for skiing is from January to March.
Regarding snow conditions, ski resorts open between the end of November and the beginning of May. In southern Iran, the ski season is shorter but usually still lasts until the end of March.
January and February are the best if you want to try the Persian poowder.
Off-season, most resorts are open for climbers, hikers and mountain bikers.
How to avoid crowded resorts? 2 tips:
Ski when Iranians are working – the Week-end in Iran is Thursday and Friday
Avoid big resorts during Nowruz (19th to 22nd of March)
Safety and avalanche risk
Iran is not a thirdworld country!
Everything is organized and in case of an emergency, hospitals in Tehran will provide treatments before repatriation.
On the slopes, safety patrols are less trained and frequent than in Europe. Try to avoid breaking a leg in the middle of nowhere while off-piste skiing or ski touring – The rescue operation will surely take longer as in the Alps.
As anywhere on earth: snow + steep slopes = avalanche – Be cautious and well equipped before skiing off-piste. Resorts are not prepared to face such natural risk. In the event of big snow-falls, lifts might close.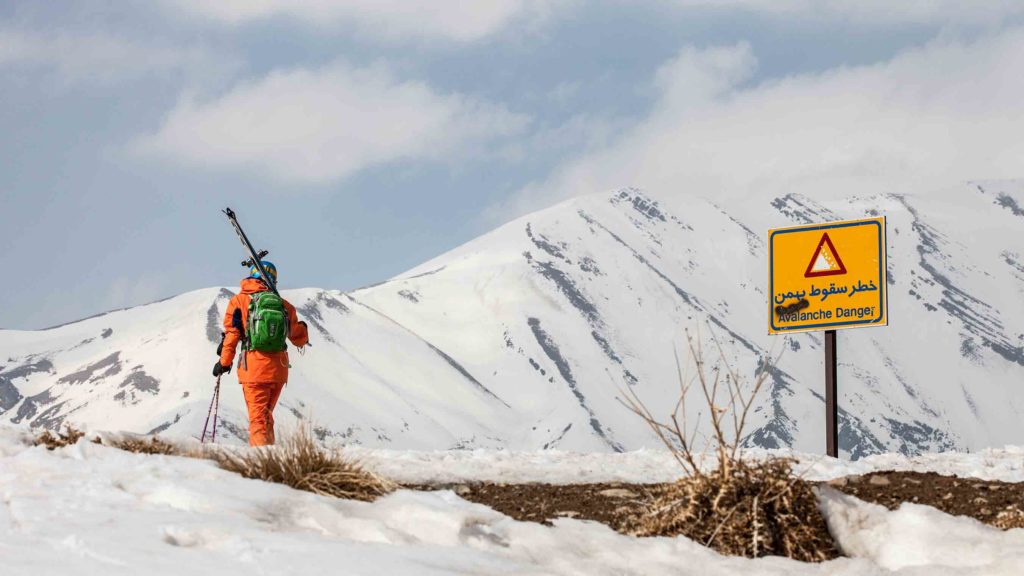 Renting and buying ski equipment
Every ski resort has at least one rental "shop". If you are not a skier, you can even rent inner tubes from old truck's – at your own risk.
Don't expect to find the latest equipment everywhere. Only few shops in big resorts or Tehran can provide recently released ski gear. One day rental for skis + boots varies from 15€ to 30€. You can also rent technical clothes in any resort.
In the main cities / resorts, you will find shops selling the latest equipment (ski, snowboard, clothes, boots…). Prices are a little higher than in Europe.
Atmosphere and après-ski
The atmosphere is great as is their powder!
Iranians are on the whole, extremely kind and curious people. Once in the mountains, the various societal pressures present in the country mostly vanish.
Everyone will come to their own conclusions, but feedback from western travelers is pretty  unanimous: IRAN IS GREAT!
Après-ski… no beers, no génépi shots, and no mixed swimming pools with Jacuzzi and toboggan… A post will soon be released about this specific topic – stay tuned!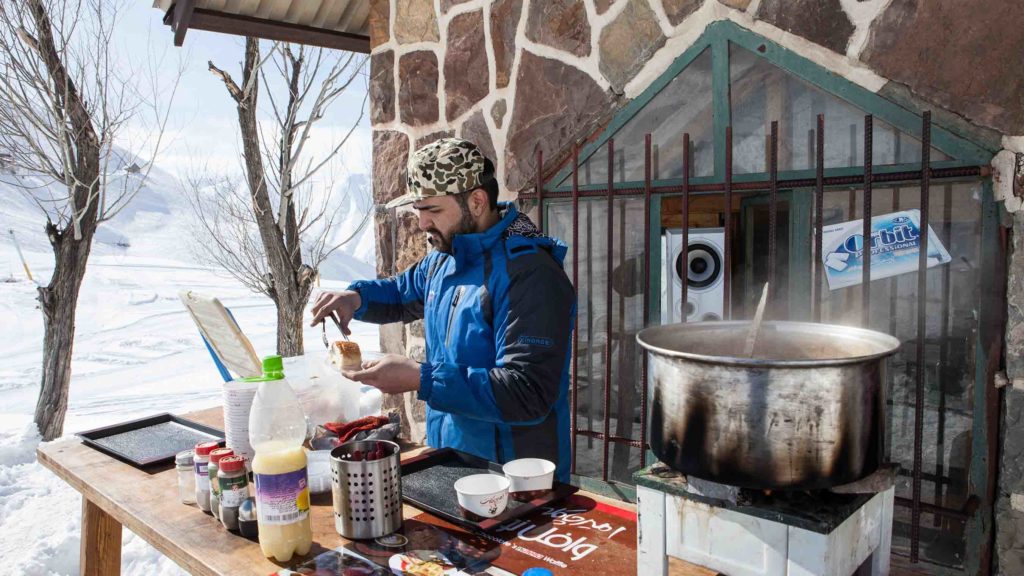 Go to Iran
A VISA is mandatory to enter Iran. At the airport, a 30 days pass "on arrival" will cost 75€ (Sept. 2017). Entering the country through a border requires you to get the VISA in advance – See this post.
More and more direct flights are connecting Teheran to Paris, Bruxelles or Frankfurt. Another option is to make a stop in Istanbul – you can then easily reach all major Iranian cities with direct flights: Tehran, Shiraz, Isfahan, Tabriz or Mashhad.
From Europe, you can find cheap round-trip flights for less than 300€ – depends on your booking date. If you plan to bring your ski gear, be sure to check the extra baggage charges.
For those with time and motivation, you can travel to Iran by bus, car, bike or even hitchhiking – Take a look at this post if you want to go by bus.
Transportation in Iran
The transportation infrastructure is well developed in Iran. Regular bus, train and plane services connect the main cities. A 600km trip at night from Tehran to Tabriz with a VIP bus (comfy seats) will cost about 9€ to 13€.
Regular / super-cheap shuttles or "minibuses" also connect the main cities to villages. The easiest and fastest way to reach ski resorts is with your own car. Taxis are also easy to find and relatively cheap for westerners.
In cities, public transportation (bus, metro, taxi) is well organized. In Tehran, download the UBER style application "SNAPP", which allows you to find cheap rides all around the city – Even to Shemshak (70km mountain road) for less than 14€…
You'd like to keep your freedom of movement and experience the Iranian driving style? Then you might like to rent a car. Take a look at the Europcar Iran website and find further info on travel forums.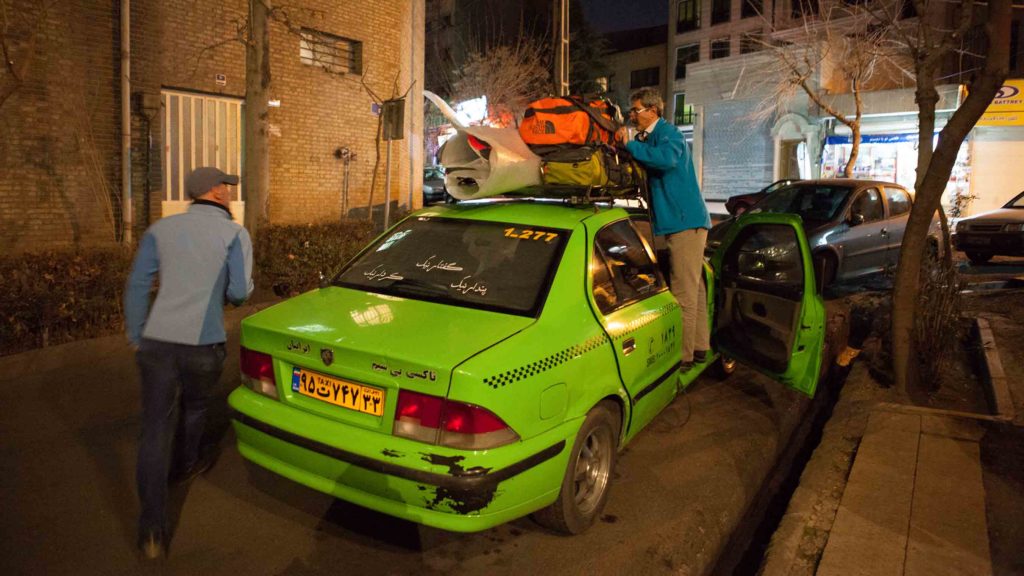 Lodging in Iran / ski resorts
You can always find a hotel, a room, an apartment or a guesthouse for the night. In the main ski resorts and cities, accommodation is relatively expensive compared to the other costs of living.
Renting an apartment is usually more economic when travelling with a group.
Hotel room in Dizin: Min. 50€ per night
Renting an apartment for 4 persons in Shemshak: 60 to 150€ per night
A new AirBnB style website "Orient Stay", offer a large choice of rooms (mostly in cities) with online payment accepted (VISA, MasterCard).
Couchsurfing is well known among young people. In most cities, you will easily find a great host.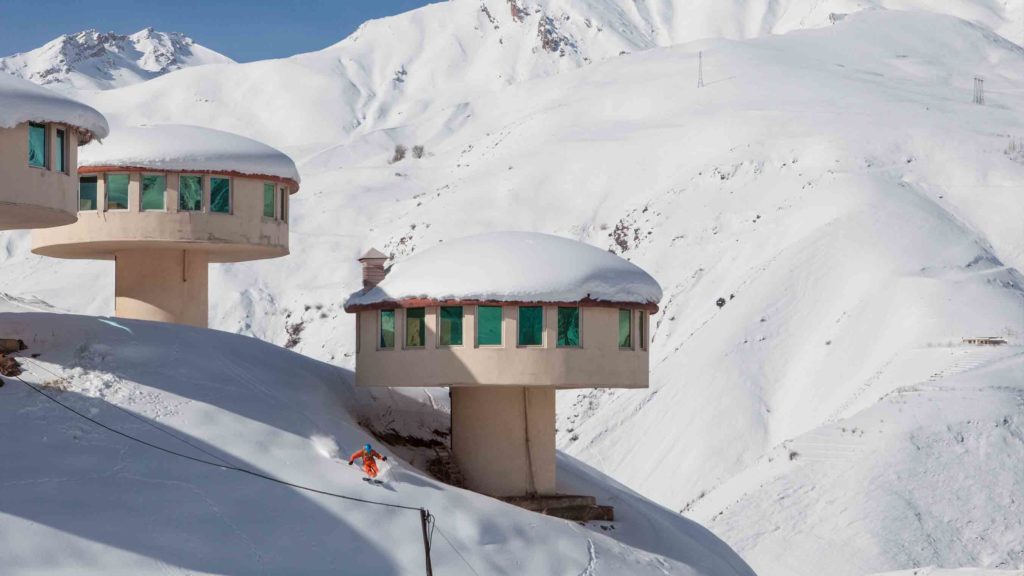 7 things to know about Iran
Money
It is complicated BUT on the upside you'll be a millionaire!
First, you can't withdrawal cash nor can you pay with your credit card – You will have to bring enough $$$ to cover the entire cost of your trip.
The currency is the Iranian Rial, but Iranians talk in Toman: 1 Toman = 10 Rials. It can sometimes be a bit confusing!
Finally, there are two exchange rates… yes, two:
Bank rate: 1€ = 40 000 Rials (Sept. 2017)
Exchange office: 1€ = 47 000 Rials (Sept. 2017)
Avoid exchanging money in a bank!
Cost of living in Iran
Shopping in Tehran (Sept. 2017):
1 liter gas: 0,20 €
1 kg rice: 2 €
1 kg pasta: 1 €
1 liter water: 0,25 €
1 liter coca cola: 0,50 €
1 kg tomatoes: 0,70 €
1 kg bananas: 0,8 €
1 km en taxi: 1 €
1 metro ticket: 0,25 €
1 full meal (rice + meat): 5 €
1 burger: 4 €
1 night in a hotel: From 50 € / night
1 night in a hostel: From 12 € / night
50cl beer in a bar: *Data Base Error*
Tehran is the most expensive city in Iran. Prices for such products are similar in big ski resorts and slightly cheaper everywhere else.
Safety
Iran is really safe (for men and women)!
For more objective opinions, check forum posts and traveller blogs… they are in agreement!
→ Links : Useful websites and ressources
Rules
Iran is an Islamic republic and certain rules must be respected:
Alcohol and drugs are explicitly forbidden
Avoid public display of affection
Women must cover their hair with a scarf (a light scarf or a beanie is enough)
Do not photography sensitive areas (military base, police officer, fabriques, government buildings)
The "Taarof"
Don't underestimate the power of "Taarof" before traveling to Iran! This courtesy concept of the Iranian culture can't be explained in just a few words… Here are a few links to help you understand:
Iranians are really sweet!
Communication
The official language is Farsi also known as Persian. The Perso-Arabic alphabet is written and read right to left. The latin alphabet is sometimes used on the web, social networks or to write SMS.
Not all Iranians are native Farsi speakers. Iran is a melting pot of cultures, languages and dialects: Turkish, Arabic, Lori, Balutch, Georgian, Armenian…
In cities, most young people speak English. Expect to engage conversation in parks, metro, bus and other public areas as soon as you have been spotted as a tourist. In rural areas, English speakers are more rarer.
For direction: the big majority of signs are translated into English.
Telecommunication
No problem to get connected!
Don't expect a 40mb connection… but enough to check websites and watch videos. Iranians are technology fans and love sharing tons of photos / videos on Instagram (these are authorized and it is the most widely used social network in Iran).
When travelling for more than a couple of days, buying a SIM card can be wise. IranCell, one of the main operators, provides good network coverage and cheap 3G/4G charges: 5€ for 5gb of Internet!
Censorship: The governement censors some websites and most social networks. If you want to use FB or Youtube, best to install a VPN such as: Hotspot Shield or XVPN.
Other activities except skiing
Iran has a huge historical and cultural heritage – explore!
With ski resorts being close to cities, it is easy to organize cultural visits all along its ski trip through Iran.
Iranians are outdoor fans and the country is a huge playground: Rock climbing, ice climbing, canyoning, paragliding, trekking, desert, kite-surf, wakeboard, hunting, fishing, animal watching… Hard to get bored!
For more info, subscribe to the Newsletter et follow SoP on social medias: Facebook / Instagram / Youtube