So, you'd like to find out about skiing in Iran? You've come to the right page! Photos © Sébastien Baritussio
Where to go skiing ?
Skiing first started in the 1930's in Iran and is now commonplace. There are around 19 ski resorts are across the country, and the potential for ski touring is virtually limitless!
Ski resorts in Iran
Let's start with the superlatives:
These three resorts are located in the same area, and only 70km North of Tehran. You will find great snow conditions, long slopes and nice freeriding / ski touring trails. Dizin even offers heli-skiing for you off-piste pros.
Most of the lifts are a bit old and the slopes are not always perfectly groomed, but do not worry, the warm Iranian hospitality and unique experience of skiing in the middle east more than compensates.
Take half a day to visit Tochal, the highest resort in Iran. The resort is small but the view of Tehran from the top is breath-taking. From the summit, you'll find long and nice off-piste trails with a northern exposure, which descend into a valley 20km from Shemshak.
There are other ski resorts, but most will not satisfy experienced skiers looking for challenging terrain. However, these – generally smaller resorts – offer the opportunity to go off the beaten track and spend time with local skiers. They are also the best resorts to establish a base camp for a ski touring trip.
Ski touring
Iran is a gold mine for ski touring!
If you plan a trip there, you surely won't be disappointed. Iran is a mountain country with more than hundred peaks over 4000m. Its two main mountain ranges, Zagros and Alborz, cover a huge area and offer excellent snow conditions, great routes opportunities and amazing landscapes.
→ More info about ski touring in Iran
But ski touring in Iran is not just about skiing. It is a dive into one of the oldest civilization on earth. A country rich of different cultures, languages and histories. Therefore, Iran is very safe and Iranians will do anything to make you feel at home. Their great hospitality, generosity and kindness will surprise you.
Travelling in Iran is a journey and when it is combined with skiing, it becomes a lifetime experience!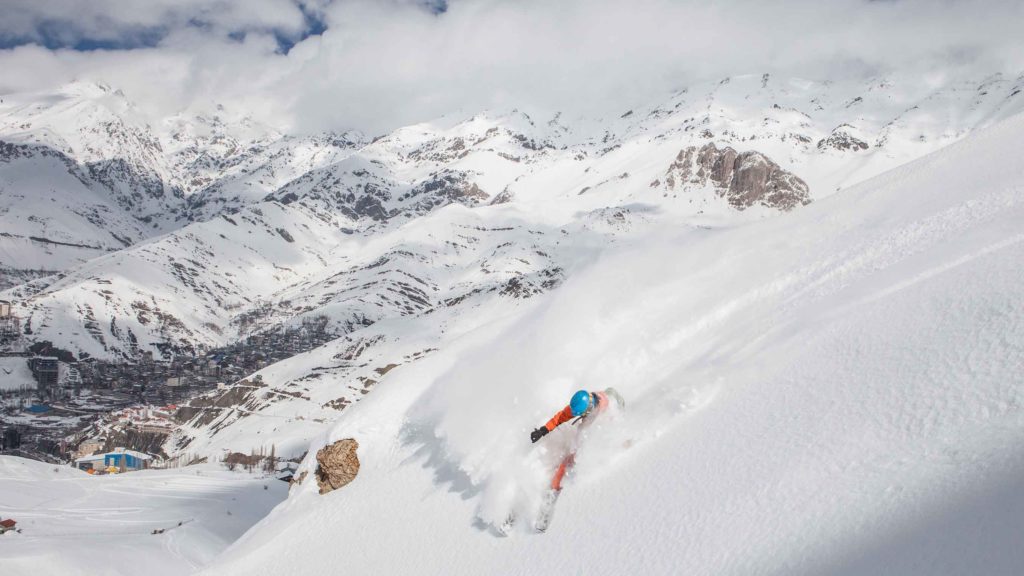 When to go skiing?
Just like in Europe, the best period for skiing is from January to March.
Regarding snow conditions, ski resorts open between the end of November and the beginning of May. In southern Iran, the ski season is shorter but usually still lasts until the end of March.
January and February are the best if you want to try the Persian powder. For touring, the season can last until the end of May (even June sometimes).
Off-season, most resorts are open for climbers, hikers and mountain bikers.
How to avoid crowded resorts? 2 tips:
Ski when Iranians are working – the Week-end in Iran is Thursday and Friday
Avoid big resorts during Nowruz (19th to 22nd of March)
Safety and avalanche risk
Iran is not a third-world country!
Everything is organized and in case of an emergency, hospitals in Tehran will provide treatments before repatriation.
On the slopes, safety patrols are less trained and frequent than in Europe. Try to avoid breaking a leg in the middle of nowhere while off-piste skiing or ski touring – The rescue operation will surely take longer as in the Alps.
As anywhere on earth: snow + steep slopes = avalanche – Be cautious and well equipped before skiing off-piste. Resorts are not prepared to face such natural risk. In the event of big snow-falls, lifts might close.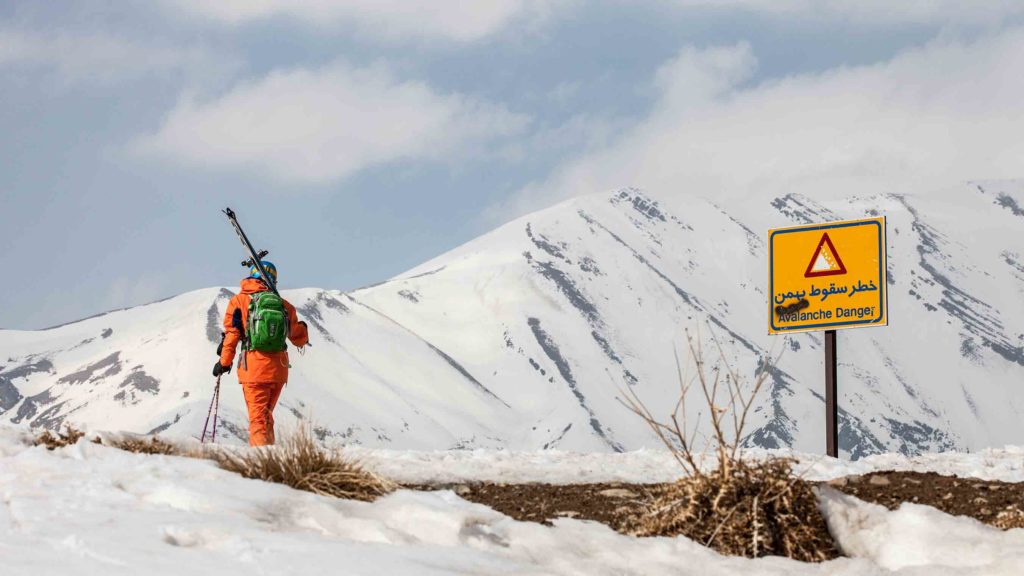 Renting and buying ski equipment
Every ski resort has at least one rental "shop". If you are not a skier, you can even rent inner tubes from old truck's – at your own risk.
Don't expect to find the latest equipment everywhere. Only few shops in big resorts or Tehran can provide recently released ski gear. One day rental for skis + boots varies from 15€ to 30€. You can also rent technical clothes in any resort.
In the main cities / resorts, you will find shops selling the latest equipment (ski, snowboard, clothes, boots…). Prices are a little higher than in Europe.
Atmosphere and après-ski
The atmosphere is great as is their powder!
Iranians are on the whole, extremely kind and curious people. Once in the mountains, the various societal pressures present in the country mostly vanish.
Everyone will come to their own conclusions, but feedback from western travelers is pretty  unanimous: IRAN IS GREAT!
Après-ski… no beers, no génépi shots, and no mixed swimming pools with Jacuzzi and toboggan… A post will soon be released about this specific topic – stay tuned!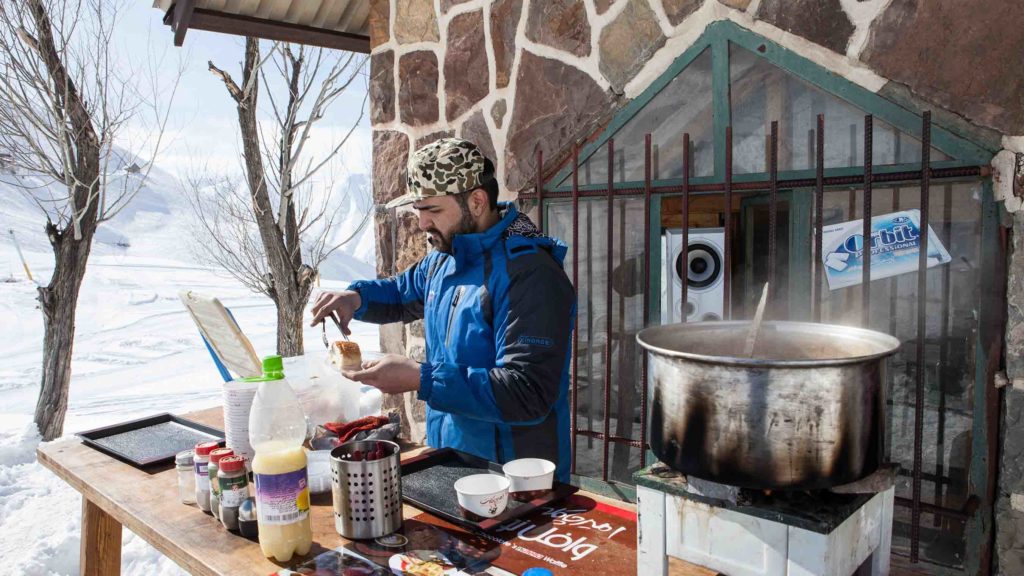 Lodging in Iran / ski resorts
You can always find a hotel, a room, an apartment or a guesthouse for the night. In the main ski resorts and cities, accommodation is relatively expensive compared to the other costs of living.
Renting an apartment is usually more economic when travelling with a group.
Hotel room in Dizin: Min. 50€ per night
Renting an apartment for 4 persons in Shemshak: 60 to 150€ per night
A new AirBnB style website "Orient Stay", offer a large choice of rooms (mostly in cities) with online payment accepted (VISA, MasterCard).
Couchsurfing is well known among young people. In most cities, you will easily find a great host.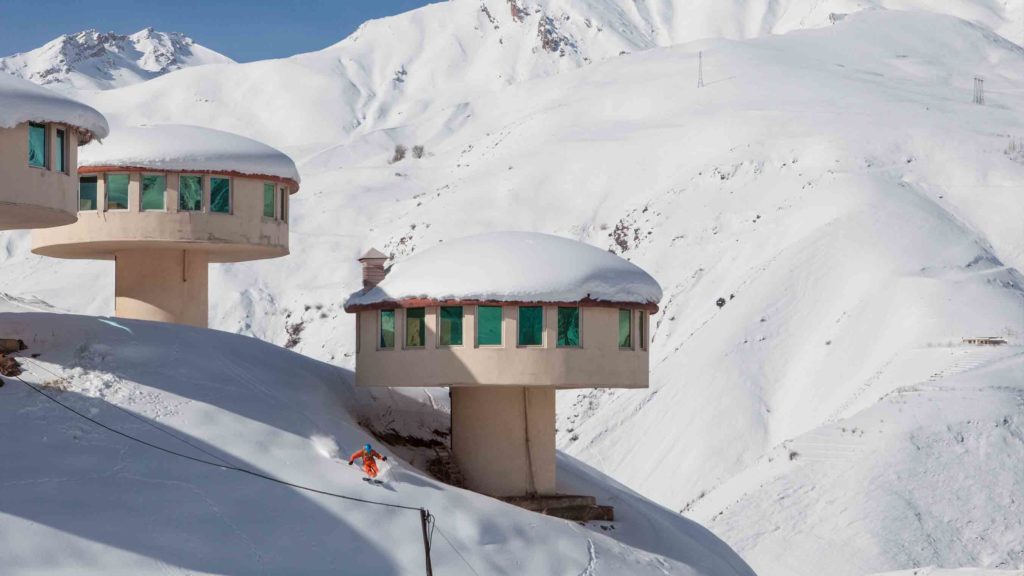 Other activities except skiing
Iran has a huge historical and cultural heritage – explore!
With ski resorts being close to cities, it is easy to organize cultural visits all along its ski trip through Iran.
Iranians are outdoor fans and the country is a huge playground: Rock climbing, ice climbing, canyoning, paragliding, trekking, desert, kite-surf, wakeboard, hunting, fishing, animal watching… Hard to get bored!
For more info, subscribe to the Newsletter et follow SoP on social medias: Facebook / Instagram / Youtube