From 3000m to 3300m
1x Rope tow
2x Skilifts
1x Green slope
1x Red slopes
Ski Pass 300,000 Rials
Open on Week-ends and Holidays from December to May
Ski resort
This ski resort is located North-West of Iran in the Sahand mountain range and 50km away from Tabriz, 6th biggest city of Iran.
According to locals, you can sometimes ski until June in this cold region (Also see Alvares ski resort). All year long, inhabitants of Tabriz and surrounding cities come here so as to: breath the fresh air, hike, ski, paraglide, relaxe or visite the famous village of Kandovan.
For beginners, a rope tow and a green slope are located just few meters away from the main building. For expert skiers, 2 ski lifts give a fast access to the summit. The vertical drop and steepness of the slope are good reasons for visiting this small ski resort. In the main building, you will find a restaurant and a rental ski shop.
Those wild mountains of are perfect for ski touring.
★ Services : Skis and clothes rental – Restaurant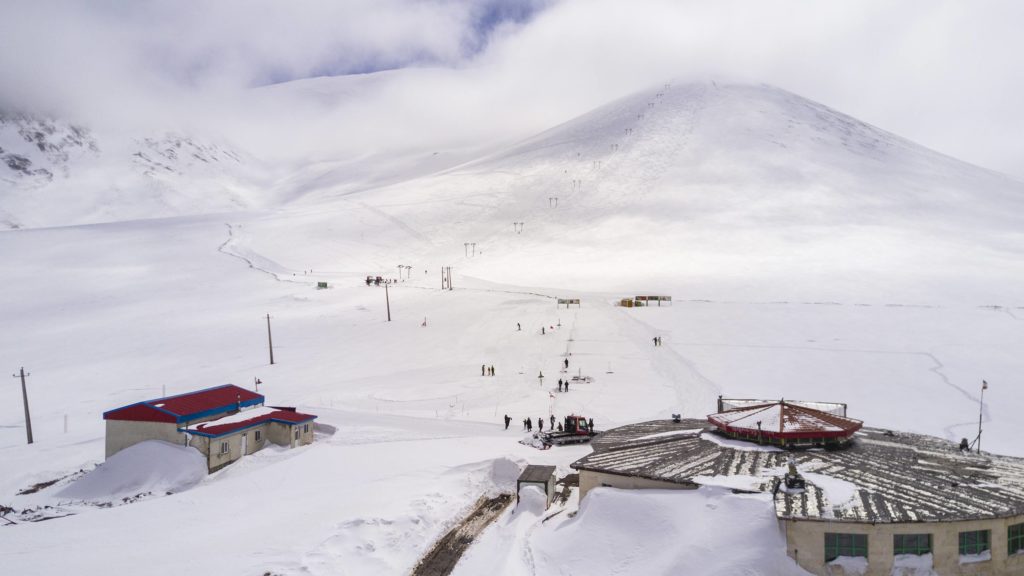 Access
Sahand is in the middle of nowhere! Fortunately, the road to the resort is well maintained. In case of bad weather, the access might be closed. There are no public transportations from Tabriz to Sahand. The best way to get there is definitely by taxi or with your personal car.
GPS coordinates : 37.758307, 46.513787
Google Maps : https://goo.gl/maps/1Rr2BfmcMLP2
Lodging
There are no lodging facilities in Sahand! However, the main building is equipped for hosting people over nights. Be nice, smile, share with the locals and you can be sure that you will be allowed you to stay there overnight.
You can also go back to Tabriz, where finding a Hotel or a Couchsurfer will be pretty easy.
Other ressources
Find more informations and photos on those websites :
Photo gallery
Feel free to share your photos!