From 2550m to 3050m
2x Skilifts
3x Chairlifts
1x Green slope
2x Blue slopes
3x Red slopes
2x Black slopes
Ski Pass 400,000 Rials
Open everyday from November to May
Ski resort
Until the beginning of the 20th century, Shemshak was a small village lost in the mountain. With the discovery of important coal deposits, the village grew and a road connecting Shemshak to Tehran was built.
At the end of the mining operations, the village became a leisure place for rich people. In 1958, Shemshak ski resort was created, offering to the upper class of Tehran a place to learn and practice this trendy sport from Europe.
Nowadays, Shemshak is still a famous place for Iranian to come relax and have fun! Even-though the resort hasn't expand since its opening, it is still one of the largest in Iran. The proximity of Shemshak with other ski resorts like Darbandsar and Dizin, makes it the Ski Capital of Iran !
★ Services : Night skiing – Ski and clothing rental / shops – Ski cours – Restaurants – Hotels – Apartment rental – Shops – Other activities
Shemshak ski area is the third biggest in Iran behind Dizin and Darbandsar. The 2x chairlifts (2 seats) starting from the village serve the summit. From the top, you can access several slopes with varying difficulties. 2x ski lifts also reach the summit. A small ski lift in the village is dedicated to the beginner area.
The ski resort offers numerous off-piste trails, reachable straight from its top.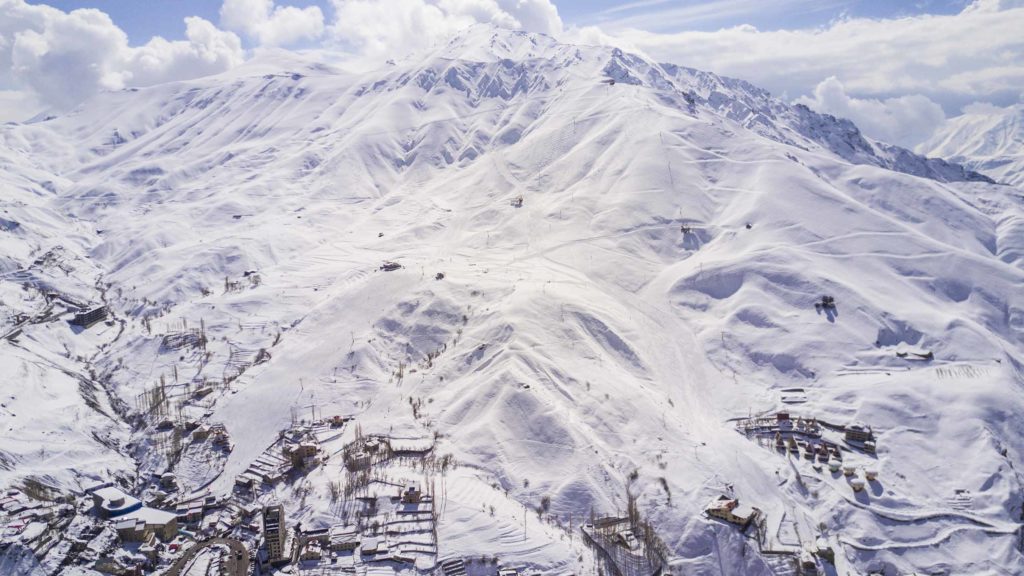 Access
Road 425, is the only route to access Shemshak ski resort. From the Eastern part of Tehran, one hour is necessary to reach the place.
Many transportation systems are available from Tehran to Shemshak : Taxi, minibus, hitch-hiking… From Tehran the easiest way is to get a taxi or drive its own car.
GPS coordinates : 36.008362, 51.493692
Google Maps : https://goo.gl/maps/H3EQVhfcrBK2
Lodging
For accommodation, the city of Shemshak has a few hotels. If you are a group, the cheapest way to get a room in Shemshak is still to rent an apartment.
With a bit of luck, you might also find a host while skiing or by using the Couchsurfing app.
Other ressources
Find more informations and photos on those websites :
Wikitravel.org : More infos about the ski resort (some of them are not so accurate…)
Instagram : Lots of photos and videos about Shemshak
Photo gallery
Feel free to share your photos with SoP!