65km North of Tehran
From 2700m to 3600m
9x Skilifts
3x Chairlifts
4x Gondolas
5x Green slopes
7x Blue Slopes
8x Red Slopes
3x Black Slopes
Ski Pass 1,100,000 Rials
Open everyday from November to May
The ski resort
Dizin is located about 70km away from the capital Tehran, in the Alborz mountain range. It is nearby two other main ski resorts of Iran : Shemshak and Darbandsar.
The resort was created during the sixties, under the reign of Mohammad Rezā Shāh. The resort is known for the quality of its snow and for being one of the highest ski resort in the world.
Dizin ski resort is the biggest and the most diversified in Iran. The ski area is located in a large funnel shaped valley.
From the snow front, 4 lifts next to one another serve each sides of the all area – 3x Gondolas + 1x Chairlift. Due to Dizin's configuration, you can stay above 3000m and ski all day long, without getting bored ! The North exposure of the slopes guarantee great snow quality all along the ski season.
For freeskiing, Dizin is a goldmine ! Besides the great powder field located between the slopes, the resort offers numerous off-pistes trails with perfect view on Mount Damavand.
It is definitely « the place to ski » in Iran. With few investments, a good daily grooming and Dizin would be for sure a 5* international class ski resort !
★ Services : Ski and clothing rental – Ski shops – Ski cours – Restaurants – Hotels – Apartment rental – Commerces – Heliskiing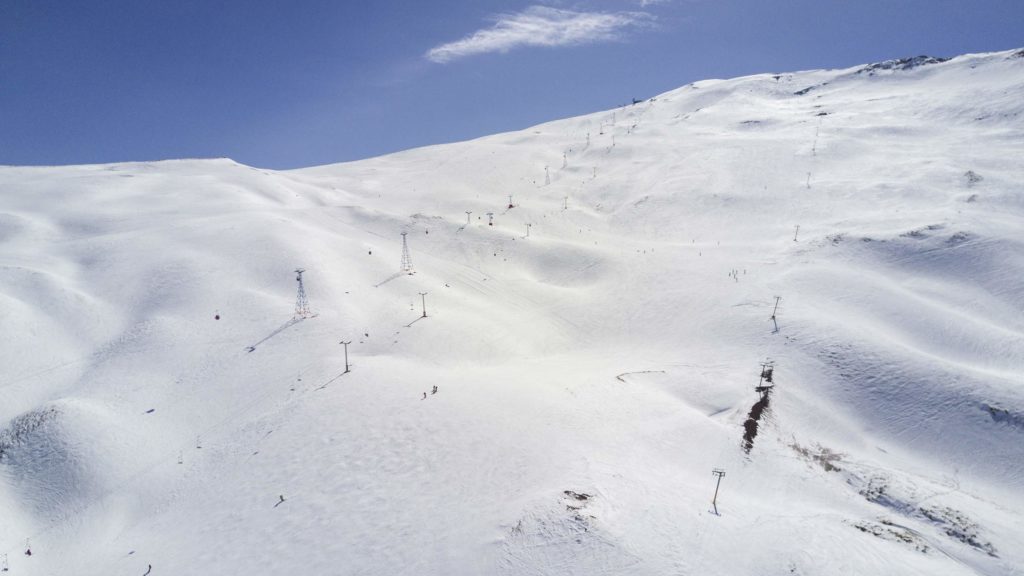 Access
Two options from Tehran:
To Dizin Ski Resort : Go through Karaj and then head to Chaloos. After 65km, leave road 59 and turn right to Dizin ski resort.
To Dizin's upper parking (3000m) : Road 425 is going straight from Tehran to the upper parking. Depending on the weather this road might be closed. Quickest way from Tehran – perfect for one day skiing !
GPS Coordinates : 36.047711, 51.417549
Google Maps : https://goo.gl/maps/N4E16YeFku32
Lodging
For accommodation, several hotels and apartments are located in the resort. You can also find rooms on the road to the resort, in the small village called "Velayat Rud".
An other good option : take a room in Shemshak and use the upper parking access for skiing in Dizin.
Other ressources
Find more information and photos on those websites :
Want to share information about Dizin? Contact SoP
Photo Gallery
Feel free to share your photos…